Vesta VSCU-4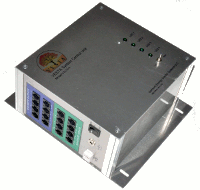 Hardware
| | |
| --- | --- |
| Power Supply | UL listed wall mount power supply (included), 115vac nominal |
| Power Consumption | 3W nominal |
| Sensor Inputs | 16 Channels, 0-2.5V, 12 bit resolution |
| Analog Outputs | 4 Channels, 0-20ma current loop, 12 bit resolution |
| Discrete Inputs | 32 Channels, 5V excitation, 2.1V nominal threshold |
| Discrete Outputs | 32 Channels, 12V supply, 200mA sink per channel |
Software
The software in the Vesta system is open source, licensed under GNU General Public License (GPL). Vesta systems are delivered with all source code. Users may modify or add to the Vesta software. A sample application template is provided.
Embedded Linux, kernel version 2.4
Apache Web Server
Telnet remote terminal access
FTP and NFS file transfer
Web-based interface for monitoring, control, and configuration
Battery-backed real-time clock, automatically synced to Internet time servers
Web-based software update capability
RM-1207 Relay Module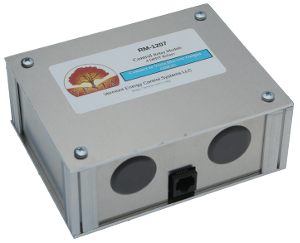 The RM-1207 is a general purpose relay module containing four relays that can be controlled by the Vesta controller. It's packaged in a standard 4" electrical 'job box'. All contacts are brought out to screw terminals. The screw terminals can accommodate up to 14ga wire. Stranded wire is suggested.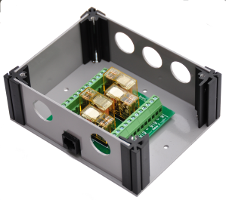 | | |
| --- | --- |
| Relays | 4 |
| Contact Configuration (each relay) | DPDT (double pole / double throw) |
| Relay Contact Rating | 8A at 250Vac, 8A at 30Vdc |
| Suggested Current Limit | 5A momentary, 3A continuous |
TS-1058 Temperature Sensor
The TS-1058 sensor is the standard temperature sensor used in the Vesta system. It's based on the National Semiconductor LM61C chip. It has low noise and good stability over time. It covers a wide range of temperatures and can be calibrated to achieve very high accuracy if necessary.
| | |
| --- | --- |
| Connector Type | Standard RJ11 (6P4C Flat) crimp connector |
| Cable Type | Standard RJ11 4 conductor flat cable |
| Operating Temperature Range | -22 - 212°F (-30 - 100°C) |
| Typical Error Over Full Range | +/- 2°F (+/- 1°C) |
| Worst Case Error at Room Temperature | +/- 3.5°F (+/- 2°C) |
| Worst Case Error Over Full Range | +/- 5.5°F (+/- 3°C) |
| Typical Error Over Full Range After Calibration | +/- 0.6°F (+/- 0.3°C) |