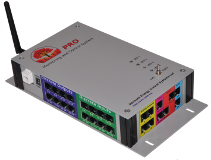 The Vesta System Controller is the heart of the Vesta system. With support for Modbus and a wide range of industrial sensors, the Vesta Pro is designed for commercial / industrial applications. Like all Vesta controllers, the Pro is a networked web-enabled device that supports wireless sensors and includes the following:
Standard Features
16 analog (sensor) inputs
4 variable speed control outputs
32 discrete (contact closure sensing) inputs
32 discrete outputs (LED, relay control)
Built-in web server
Ethernet network port
Wireless Sensor Support
(2) 1 Wire Masters
Modbus
RS-232
All required software (including source code)
Options
Wi-Fi Networking
Insteon Support
The Insteon support option allows the Vesta to communicate with and control selected Insteon devices.
Hardware
| | |
| --- | --- |
| Dimensions | 6" Wide x 9.5" Long x 2" High (Approximately) |
| Power Supply | UL listed wall mount power supply (included), 115vac nominal, 4 Amps |
| Power Consumption | 3W nominal |
| Sensor Inputs | 16 Channels, 0-5V, 24 bit resolution |
| Analog Outputs | 4 Channels, 0-20ma current loop & 0-5V, 12 bit resolution |
| Discrete Inputs | 32 Channels, 5V excitation, 2.1V nominal threshold |
| Discrete outputs | 32 Channels, 12V supply, 200mA sink per channel |
Software
The Pro includes all of the Vesta software suite, including datalogging, charting, custom graphical user interface tools, remote notification, and control capability.
The software in the Vesta system is open source, licensed under GNU General Public License (GPL). Vesta systems are delivered with all source code. Users may modify or add to the Vesta software. A sample application template is provided along with all necessary compilers and development tools.
Software Specifications:
Embedded Linux, kernel version 4.1
Apache Web Server
SSH remote terminal access
FTP and NFS file transfer
Web-based interface for monitoring, control, and configuration
Battery-backed real-time clock, automatically synced to Internet time servers
Web-based software update capability
Ordering Notes
In some applications, the Vesta controller must be configured for the network where it will be installed. If you order online, we will contact you to obtain the necessary information.
| | | |
| --- | --- | --- |
| VSCU-6 | Vesta Pro System Controller | $2450.00 |
| INST-6 | Insteon Option for Vesta Pro System Controller | $150.00 |
| WIFI-6 | Wi-Fi Option for Vesta Pro System Controller | $100.00 |